For the vacuuming of entire rooms we usually have large wired devices that are moved on rollers and guided on the long pipe. But this requires a lot of effort to get in and prepare - and it needs a nearby power outlet.

In contrast, there are situations where a handy HoLife vacuum cleaner is simply better; either because it is light and fast in the matter, or because it can be used anywhere because of its battery operation - so even when car cleaning, or where your household vacuum cleaner can not get, because the cable is not long enough.

There are areas in the house without sockets or the line on the vacuum cleaner is too tight by the manufacturer.

And if it's just a minor mishap?

It may be a localized contaminant, consisting of a few crumbs or a heap of flour, which makes the big device look like it's going to shoot sparrows with cannons.

Small occasions of this kind are perfect for the HoLife handheld vacuum cleaner.

It is ready for use with a handle in the closet and does not need much storage space in it. If you have it designed for mobile use in car or RV, this is particularly pleasant for the limited space on the road, traveling and on vacation.
➔ Technical details of the HoLife handheld vacuum cleaner
Power supply and cables (including 1,75 m) of the handheld vacuum cleaner HoLife Generation II 036 are limited to the charging station, which consumes a maximum of 100 watts in charging mode.

Its battery is of the current performance and charge constant lithium-ion type with 14,8 Volt operating voltage and should be fully recharged after five hours at the latest, which is indicated by a change of the charge indicator from red to green.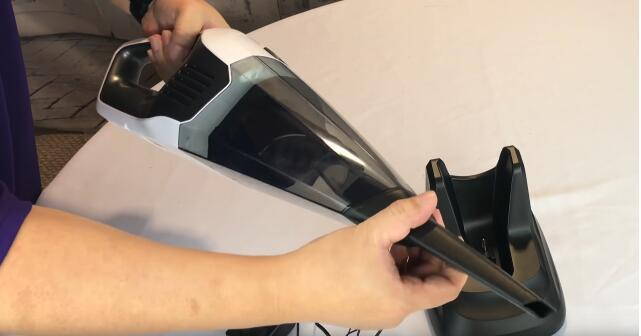 When sucking it brings the Hand vacuum cleaner Generation II 036 on 22 watts of power, more is probably not needed for a handheld device with battery drive. This will allow you to suck for about half an hour, which seems more than enough in the meantime for the probable missions.
Because of the one-handed operation, your arm should be able to handle the weight of 1,7 kg while doing so, or you should continue with the other hand when you tire.
Through ergonomic handle design, the manufacturer tries to make your job easier.
The maximum noise level is specified as 78 dB. Ideally, it is a nipple that also handles liquids, and can take in 100 ml of it before you have to empty the tank. No problem with an overturned wine glass as far as the capacity of its contents is concerned.
An air flow of 18 liters per second may be considered as considerable for a compact device of this size and will draw up to 600 ml of dry dirt into the collecting container.
О Equipment
The handheld vacuum cleaner HoLife Generation II 036 has everything to fully meet its demands for versatile and mobile use.
At the same time the charging station offers a housing for the waiting position, although no wall bracket - this is a stand-alone charger for charging the hand-held vacuum cleaner that is set down with the handle. The tank is easily removed, emptied and rinsed out.
Paper filters are not provided here and therefore do not have to be bought later. The transparent stem of the HoLife handheld vacuum cleaner facilitates visual control of the activity in front of and behind the suction nozzle.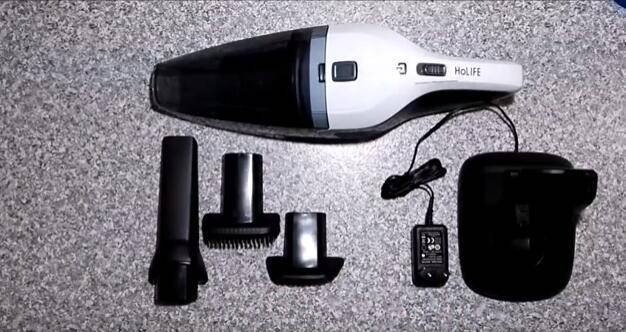 If necessary, you put one of the three special suction nozzles on it; one of them extends and narrows the suction channel, which is good for cracks and limited space. A second one has a brush attachment, which is needed if you want to remove adhering dirt with mechanical pressure and also want to brush it out of textiles.

The third attachment specializes in the use of liquids, because it works like a supportive wiper, with rubber lips. For operation it is not necessary to keep a push-button constantly pressed, as the HoLife Generation II 036 is equipped with a slide switch.
➔ Processing
The case can be divided into a handle with the charging contacts at the end, the motor housing with side air outlet slots and the removable front part made of transparent plastic, which narrows in the front to an air inlet.
At the same time, this front part of the HoLife Generation II 036 handheld vacuum cleaner contains the collection container or tank for the absorbed particles (and liquids) that have been held up by the filter mounted centrally in the air duct and can be viewed from outside.
With a push of a button, the front part is then decoupled from the engine part and subjected to cleaning and emptying.
One of the three nozzle attachments can be attached to the air intake. The total weight of 1,7 kg of the hand vacuum HoLife may be considered as an indication of high quality inner life, the lion's share of which should be due to the battery.
➔ Pros and cons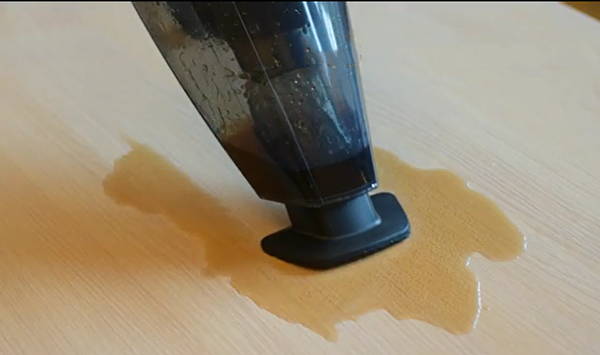 Of course, you want to vacuum up and not cuddle HoLife Generation II 036 as effectively as possible with a handheld vacuum cleaner, so you can call the considerable weight acceptable, but we certainly prefer it as a symptom of better absorbency rather than an easier one Obtain device with lukewarm suction power. What a sucker of any size should be measured most likely, is its suction power.
If you usually store the HoLife vacuum cleaner in its charging station, there are no delays due to charging times and the device is always ready. Powerful wet and dry suction without having to buy a filter while at the same time being wireless is actually everything you could want from a hand-held vacuum cleaner. In the long term, perhaps a solution would have been preferable, which provides a battery replacement on the device, while also being able to buy a battery.
❏ Summary HoLife Generation II 036 handheld vacuum cleaner
You can already see under 'pros and cons' that the judgment to Hand vacuum cleaner Generation II 036 necessarily positive. Regardless of the high guide weight, you can also have it used unattended by children, even in humid environments, since the low 15 Volt operating voltage is completely harmless.
Optimal use is to be expected when cleaning in the car, seat sucking, and on the way on trips with the motorhome, if you can get electricity for recharge on campsites. At home, wireless is also the strongest argument in favor of the HoLife Generation II 036, coupled with its convenience of not having to stall for every minor accident in the big vacuum cleaner.